"THERE IS IN THE UNIVERSE NEITHER CENTRE NOR CIRCUMFERENCE. "  ~ Giordani Bruno
The coldest time of the year is upon us, and the long nights that accompany the Winter Season are the best time to enjoy the breathtaking beauty of our stars and planets. Gaze up in wonder at a celestial show above, painted with twinkling stars against a canvas of dark night sky.
SPOT THE BRIGHTEST PLANETS IN JANUARY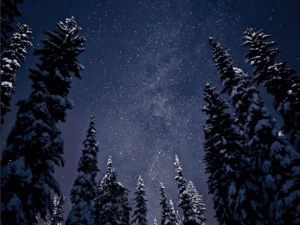 At the beginning of January, four planets will be visible in the evening sky: Venus, Saturn, Jupiter, and Mars. Mars will be particularly bright during this time, so be sure to catch it while you can!
Observe the slight variations in colour between ochre Mars and the yellow-orange Lucida of Taurus. The Red Planet's disk spans about 14 arcseconds and is large and close enough to be viewed in detail through a telescope.
Interested in exploring the night sky?  You can rent a telescope at Manning Park and discover the wonders of the universe for yourself!
LOOKING FOR ADVENTURE THAT IS AFFORDABLE & FUN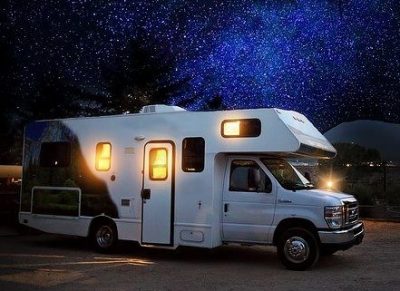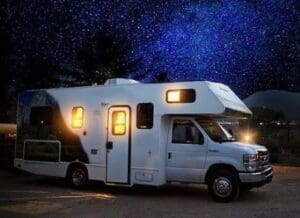 Watch our new stargazing video here.
 Take a trip to Manning Park and stay in BC Park's fully serviced Skyview RV Campground. Named because the stargazing is SO great in this location!
62 Campsites are available in the Winter and 92 sites in the Summer. All campsites have hook-ups for water, power (50-amp) and sewer. Skyview Campground is near Lightning Lake, and has a heated shower building for your enjoyment.
At Manning Park, you can spend your days carving down the slopes, gliding across 60km's of Nordic trails, snowshoeing the tranquil beauty of the Cascade Mountains and unwinding by your campfire while covered in a blanket of stars.
(Pro-Tip: Bring your camping chair to enjoy the cosmos from your campsite)
Click to BOOK YOUR ADVENTURE NOW!  
NEW PRIVATE TOURS & A PERFECT STARGAZING OPPORTUNITY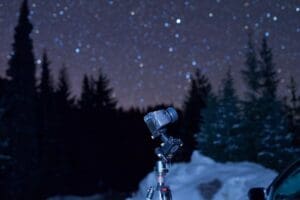 Enjoy the beauty of the star-filled night sky, while snowshoeing or cross-country skiing at Manning Park. These events offer a unique and magical experience, perfect for all ages and experience levels. Don't miss out on the opportunity to explore the great outdoors and marvel at the celestial wonders above.
Private Snowshoe Tour + Chocolate Fondue:
2-Hour Private Guided Tour followed by a Chocolate Fondue in our Bears Den Pub.
$65/per person (minimum 4 people)
Private Snowshoe Tour + Wine & Charcuterie Board:
2-Hour Private Guided Tour followed by Wine & Charcuterie Board in our Bears Den Pub. $79/per person (minimum 4 people)
Private Snowshoe or Cross-Country Guide:
$60/Hour (2-Hour minimum requirement)
To reserve your Private Experience, please Email: nordic@manningpark.com
ASTRONOMY NEWS AND MORE…
TOP 10 SKY EVENTS OF 2023 
There are three major meteor showers, including the Perseids, arriving with the Moon mostly out of the way this year.
1- Venus, Saturn, & Crescent Moon at dusk
Date: January 23
Type: Conjunction
Time: Evening
View: Naked eye, binoculars
Click to know more – Skynews.ca 
TOP 20 STARGAZING APPS
If you're wondering where to find the Big Dipper or have noticed a reddish dot above you and want to know more, a stargazing app can be a helpful tool. Simply download one to your phone and have access to a wealth of information about the celestial objects visible in the sky.
Click to know more  – Vitotechnology.com